Introduction:
Lithium-ion batteries are ideal in modern-day devices like smartphones. Li-ion batteries are rechargeable, long-lasting, and have a low self-discharge rate. But you might buy a fake lithium-ion battery with the increased demand for it. This article will help you circumvent this.
These lithium battery companies have high-quality products. And they use the latest technology to manufacture the batteries. Therefore, we will cover in-depth details about the top custom lithium battery manufacturers.
9 Best Custom Lithium Battery Manufacturers
Even with thousands of lithium battery companies, we have a list of nine of the best. These custom battery manufacturers offer the best products in the market. So, here are the best custom lithium ion battery manufacturers.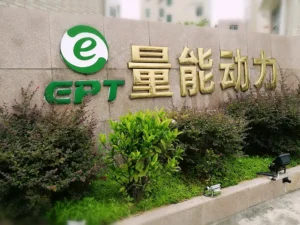 EPT is one lithium battery company that makes custom lithium-ion batteries. This company has its headquarters in Shenzhen. And it has other bases in Meizhou, Guangdong province, and Yancheng, Jiangsu province. EPT manufactures more than 600,000 lithium batteries. Additionally, the company has been in the lithium-ion battery manufacturing process for many years.
Furthermore, they have li-ion battery packs for different appliances like vacuum cleaners and much more. Also, EPT manufactures cylindrical li-ion batteries and cells for different devices. Check EPT to find the best lithium-ion battery packs for your daily use.
2. A123 Systems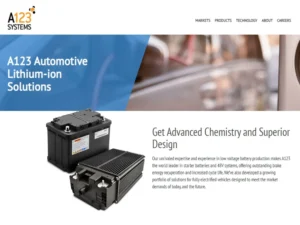 A123 Systems is a lithium battery company that makes automotive li-ion batteries. Some areas where A123 Systems li-ion batteries are used include commercial vehicles, etc.
Additionally, they make li-ion cells available in different capacities 6Ah, 8Ah, 20Ah, 26Ah, 32Ah, 37Ah, 39Ah, 50Ah, 52Ah, 65Ah, and 67Ah. The A123 Systems lithium-ion batteries are made using the latest technology. This can make them safe and ideal for daily use in various appliances and automobiles.
3. Lithion Battery
This is one of the best custom lithium battery manufacturers USA. Lithion Battery uses cutting-edge technology in the manufacture of Li-ion batteries. Additionally, it uses the BCI (battery council international) standards. This makes them among the best li-ion manufacturers globally.
Also, Lithion Battery makes modules, cells, and custom lithium battery packs. This company has been manufacturing lithium-ion batteries for over three decades.
The Lithion Battery li-ion cells are among the best are they have a low self-discharging rate, low maintenance, and the best power density. Moreover, Lithion batteries have li-ion modules available in three series the U-charge RJ, U-charge RT, and U-charge XP.
4. 24M Technologies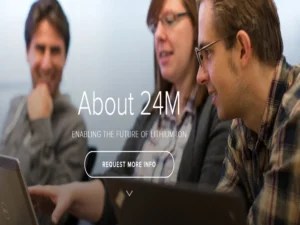 24M Technologies is one of the famous custom lithium battery manufacturers USA. This company is re-inventing the li-ion cell manufacturing process. Their products are used in various sectors like stationary power, electric mobility, and aerospace.
5. Romeo Power
Our following lithium-ion battery manufacturer is Romeo Power. This lithium battery company makes li-ion batteries for EVs. Additionally, they make batteries for storage industries and markets. Romeo Power makes the Banyan module, which is the best for use by commercial vehicle industries. The Banyan module consists of li-ion cells in a 21700 format in parallel or series. Another product by Romeo Power is the Menara li-ion battery pack series.
6. EnerSys
EnerSys is one of the best custom lithium battery manufacturers USA and has other products like chargers and accessories. Additionally, EnerSys makes batteries for computing and telecommunication systems. Their lithium-ion batteries are durable and rechargeable.
7. BYD
BYD is a global manufacturer of lithium-ion batteries with various uses, like new energy automobiles. This company was established in 1995 and is in Shenzhen, China.
Also, they have the best custom rechargeable batteries. Apart from li-ion batteries, BYD makes NiMH and NCM batteries. Additionally, BYD is keen to adhere to a zero-emission energy ecosystem.
8. Samsung SDI
Samsung SDI is one of the leading custom lithium battery manufacturers that makes prismatic batteries. Additionally, the batteries are used in devices like laptops, mobile phones, and e-bikes. Samsung SDI aims to tackle carbon emissions, powertrain performance, and reduce fuel consumption.
9. Panasonic
This custom lithium battery company is in Osaka, Japan, and its establishment was in 1918. Panasonic makes custom lithium batteries for devices like notebooks, computers, mobile phones, etc.
Additionally, they make different types of lithium-ion batteries. These include cylindrical, prismatic and pin type.
What is a Custom Lithium-ion Battery?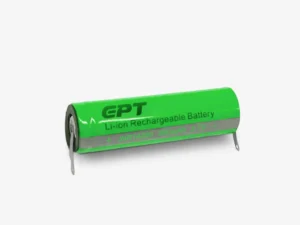 A custom lithium ion battery is a type of battery that has been made with a customer's specifications. It is not different from a typical battery but has different features not found in a standard li-ion battery. Additionally, custom lithium-ion batteries come having specific power requirements and measurements.
Benefits of a Custom Lithium-ion Battery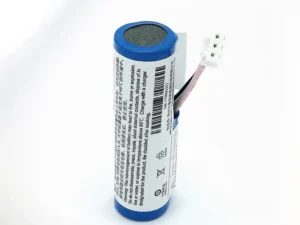 There are various benefits of custom lithium ion batteries. They include:
Economical: Custom lithium-ion batteries are economical. Because they help reduce the cost of buying various li-ion batteries hoping to fit and function well on your appliance. Therefore, custom-making a li-ion battery helps reduce the cost.
Specified Battery Requirements: A custom lithium-ion battery comes with specified battery requirements. For example, different appliances have specific power requirements. Therefore, certain requirements may be needed to provide the appliance with the right power.
Ideal Design: custom lithium-ion batteries have a specific shape, size, energy rating, packaging, and capacity. Therefore, you should consult a lithium-ion battery manufacturer to get a custom lithium battery with an ideal design.
Types of Lithium Batteries
There are six main types of lithium-ion batteries. Here we are going to discuss these types.
1. Lithium Cobalt Oxide
Its other name is LCO, a type of li-ion battery characterized by a low specific power but high specific energy. The best thing about lithium cobalt oxide batteries is that it delivers power for a long time. Additionally, LCOs are primarily used in electronic portal devices like cameras. Currently, the use of LCO is on the decline because cobalt is becoming extinct and expensive to mine.
2. Lithium Iron Phosphate
Lithium Iron Phosphate, or LFP, has a long lifecycle making it a durable li-ion battery. This battery's application is in e-bikes and EVs. Furthermore, they have the best thermal stability, safety, and electrochemical performance.
3. Lithium Manganese Oxide
The LMO battery uses lithium manganese oxide as a cathode. This is to achieve low internal resistance, increased current handling, and thermal stability. Lithium manganese oxide has high specific power, and its application is in medical devices, EVs, and power machines.
4. Lithium Nickel Manganese Cobalt Oxide
The NMC is widely used in various devices and automobiles, like electric powertrains. The Lithium Nickel Manganese Cobalt Oxide is durable, less costly, and has a high energy density. However, the low voltage disadvantages give them a lower rating than cobalt batteries.
5. Lithium Titanate
Lithium titanate is another lithium battery. It has a fast-charging feature, is safe, has an ideal operating temperature, and has a long service life. LTO is mainly used in EVs and charging stations, military and aerospace devices, solar energy storage, and power supplies.
6. Lithium Nickel Cobalt Aluminum Oxide
The final lithium-ion battery is the NCA or Lithium Nickel Cobalt Aluminum Oxide battery. Additionally, this battery is primarily found in grid storage plants and EVs. NCA has a more specific energy and power than other Li-ion batteries. Thus, making them produce high currents for a long time.
Final Verdict
These are the top 9 custom lithium battery manufacturers you should consider. They will make you an ideal li-ion battery that fits your purpose. Before you choose the right lithium-ion battery company, you should consider their years of experience. This lets you know if they can make you the correct custom lithium-ion battery.
Additionally, check their customer rating, as it will help you understand if they meet customer expectations. Other things you should consider include production & delivery timelines and certifications.
As one of the most experienced custom lithium battery manufacturers, EPT has been established for 21 years. With EPT, you are sure of high-quality services and the best lithium-ion batteries for your tools or devices. Suppose you have questions about lithium-ion battery companies, leave a comment, and we will help you.